Beautiful long and curled lashes can open up your eyes and make them pop….what if we told you that we can do this for you using your natural lashes? You wouldn't believe us right…but we can.
At Nails & Brows Mayfair, we have the best-trained technicians that can curl your lashes for a full glamorous look. In this article, we shall introduce you to our lash lift and tint service and explore the benefits of getting a lash lift!
What Is A Lash Lift?
A lash lift is a beauty treatment that enhances your natural eyelashes by using a curling rod to semi-permanently curl your lashes. This is then set with a solution to effectively 'perm' your lashes to stay in their shape until your next appointment. 
All that is used is your eyelashes with no extra ones being added in. The lift comes from working with the root to give the full and curled look.
An eyelash lift and tint is great if you want to boost your natural lashes with quick and easy treatment. It will give you long-lasting results, allowing you to wake up looking ready for the day. With full and curled lashes that will enhance your natural eye colour and shape, there is no need to spend time on mascara – you can enjoy those extra few minutes to yourself. 
How Long Does A Lash Lift Last?
The length of time that a lash lift lasts depends on how quickly your natural lashes grow, but a lash lift can last up to 12 weeks. However, a major factor is the lash lift aftercare – if you look after your eyelashes, they are more likely last longer. You need to look after your lashes to keep them looking fresh, beautiful and most of all, lifted! 
Here are a few top tips to maintain lash lift aftercare: 
For the first 24 hours after your treatment, you should avoid any contact with water, even in the shower.

No mascara, eye cream or serums for the first 24 hours.

You will want to avoid any products on your face that contain oil.

This may sound strange, but you can't sleep on your new lashes as this may damage them.

Avoid a steam room, sauna or working out, if sweat will get in your lashes.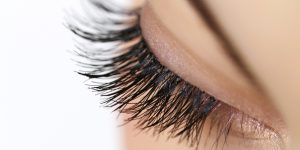 Where To Go To Get The Best Lash Tint And Lift
At Nails & Brows Mayfair, we provide the best lash lift in London with experienced technicians to give your eyelashes the VIP treatment. 
Our lash lift and tint enhances your natural beauty and lashes, to give your eyes an open and curled effect. This lash-enhancing treatment boosts your natural lashes, removing the need for lash extensions. The treatment will give wonderful eye-opening results that last up to three months, and best of all, it only takes an hour to complete!
What Are The Advantages Of A Lash Lift And Tint?
Most people think of lash extensions when they think of thick, curled eyelashes, however, this look can be achieved using your natural lashes!
Wake Up Ready To Go
No mascara, no problem. A lash lift means your eyes always look ready to go, with perfectly curled lashes, without the need for makeup or a curler.
Enhances Your Natural Lashes
The best thing about having a lash lift is that it enhances your natural lashes to make them full and long which can give your eyes an open and bright look. 
Low Maintenance
It requires very little to no maintenance, making it great for people on the go or who don't want to wear mascara.
Quick and Easy
A lash lift typically takes around one hour, therefore you can easily slot it into your life and even have the treatment done on your lunch break or in between meetings!