Eyebrows are a prominent feature on your face and beautifully shape your eyes. But some people aren't always born with thick, bushy eyebrows and getting their desired shape is near on impossible through natural eyebrow hairs. This is especially true for fair-haired people who have very minimal growth on their faces.
At Nails & Brows, we believe that cosmetic procedures should enhance your natural beauty and microblading your eyebrows helps to draw out your natural shape to perfectly frame your face.
In this article, we will show you our guide to microblading your eyebrows, along with what microblading eyebrows are, how much it will cost and, most importantly, how long microblade eyebrows last.
What Is Microblading?
Microblading simply put is a way of tattooing your eyebrows to a desired style and shape. Microblading eyebrows is a game-changing treatment that is perfect for those with little or no brow hairs but who want a natural-looking brow shape. 
At Nails & Brows, we offer Microblading and Microfeathering, which is a highly sought-after brow treatment involving the latest nanoneedle technology and microblading techniques, to create ultra-fine hair strokes that beautifully enhance natural brows. 
If you are one of these people that need that little extra help to get beautifully full eyebrows, then this may be perfect for you. This can lead you to wonder – how much is microblading? The cost of microblade eyebrows can vary depending on where you choose to go. We offer it at the price of £995.00 which includes a top-up treatment within eight weeks of the first treatment.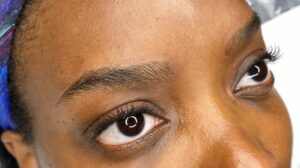 How Long Does Microblading Take?
A microblading session can take up to 3 hours, varying depending on where you go and who your eyebrow expert is. Sometimes, the session can require more time depending on the skill level of your brow expert, which could see them taking slightly longer than expected to carefully map out your eyebrows. 
How Long Does Microblading Last?
Microblading is a semi-permanent cosmetic procedure that typically lasts between 12-30 months. When you have your eyebrows microbladed, it happens in two steps. The first one is where your brow expert will use thin blades to make tiny incisions into your skin and create a realistic brow. The second step happens 6-8 weeks later when you go back for your top-up session. 
After you have both of your sessions, you should expect to see the results within two months, once your eyebrows have had a chance to heal. Then you can come back as and when you feel you need to, with most people generally visiting on average once a year for touch-ups.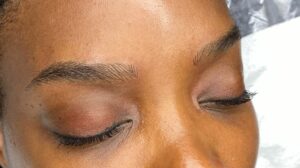 How To Look After Your Eyebrows
After microblading eyebrows, you need to prioritise how you look after them. Post-care is essential to keep your eyebrows looking good and feeling good.
After your session, it can take between 4-6 weeks for your eyebrows to completely heal, and during this time you will see your eyebrows go through different phases. It is essential that you are careful in the first seven days and do not let any makeup, water, soap, skincare products etc touch your eyebrows as this can damage the way the pigment takes to your skin.
Once your session is complete, your expert will give you a cream that you will need to apply to your eyebrows to help the healing process. Here are some things for you to avoid after your microblading procedure:
Avoid exercising and excessive sweating.

Do not have a sauna, jacuzzi or a bath.

Even though your skin may feel uncomfortable, don't pick at the scabs as this can remove the pigment from the skin or result in scarring

Refrain from touching the area around your eyebrows, apart from when you have to apply your cream