As spring approaches, many of us are looking at the latest nail art trends for 2023 and taking into consideration how we can add some spring colours to our nails. At Nails & Brows, we know that your nails are the perfect accessory to any outfit, so why not let your nails do the talking with the perfect gel manicure this spring? In this article, we will discuss how you can get perfectly manicured nails and the best place to go in Mayfair.
What Is A Gel Manicure?
A gel manicure swaps out traditional varnish for shellac or gel that uses a UV light to set and cure the polish to the nails. Curing means that it will last a lot longer than normal varnish and will stay perfect for a prolonged period of time. 
Gel manicures are great for all nail lengths and are ready to go as soon as you leave the salon with no drying time needed. 
Where Can You Go To Get The Best Manicure In Mayfair
Look no further than Nails & Brows – we have curated a menu of the most effective nail treatments. We use only non-toxic products that are vegan and we have our very own team of experts to give you and your nails the ultimate nail art design and TLC!
Choose from our non-toxic gel and shellac options, for shiny and flawless manicured nails:
CND Shellac Manicure
Looking for a manicure that will last through busy workdays? Includes flawless filing and cuticle work, exfoliation, as well as a relaxing hand and arm massage. 
Non-Toxic Gel Manicure
Using vegan, non-toxic gel polish that is easily removed just like regular polish. Nails are cut, filed to shape, cuticles pushed back and gently tidied followed by a brightening exfoliator and luxe hand cream.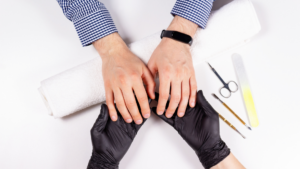 How Long Do Gel Manicures Last? 
Due to the way the polish is cured, your shellac and gel manicure will stay shiny and chip-free for up to 10-14 days with zero drying time. 
The gel or shellac polish will stay shiny and fresh, the main reason for having your nails redone is because your nails and cuticle will start to grow out and it will need tidying up!  
How Long Should You Wait Between Gel Manicures?
When you get your nails done, it can be easy to let them grow out and wait too long in between appointments. But regular manicures help to keep your nails underneath the gel healthy and strong. 
However, we do advise that you leave a window between your manicures to allow your nails to breathe without any varnish on them. If you constantly have gel or shellac on your nails then this can suffocate your nail plate and make your nails brittle and weak. 
Due to this, we recommend that once you have your gel or shellac removed, wait a few days to a week before having another manicure.
The Trends For Spring Nails This Year
What spring colours for nails do you want to see? Are you more of a neutral nail art person or do you want your nails to be a statement piece when you go out? 
This year the nail colours for spring 2023 offer a wide range to suit all your fashion wants, needs and desires.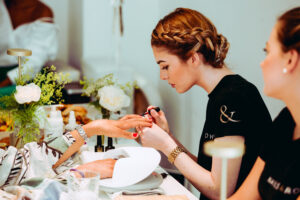 1. The Classic French Manicure
French tips will never go out of fashion! You can opt for the classic white and nude French manicure colours to have a neutral yet stylish look this spring, and best of all this simple nail art design will go with everything.
2. Rainbow Is Back…But With A Twist
Fancy something classic yet quirky? Go for the rainbow French nails. Have any two colours that you have your sights set on with this old-school nail art design. 
3. Pastels! Pastels! Pastels!
Is it spring without the reemergence of pastel manicure colours? You can opt for springtime nails to reflect the season, with lilac, blush pink or mint green.
4. Brighter Is Always Better
Neon pink, bright red or electric blue…go bold or go home! Kickstart the summer with bright and fun colours.