With summer on the approach, this means that nail prep has officially begun. But what nail design should you get? With countless styles to choose from, it can be tricky to decide what will go best with your holiday outfits. At Nails & Brows Mayfair, our skilled nail technicians are here to offer both service and knowledge, assisting you with choosing a nail design from the most recent nail trends that suit your style.
Bringing the very latest in 2023 trending nail designs to really get excited about. Whether you love the minimal look or want something a little wackier, we've got a suggestion for everyone. With our list of the top five most recent nail trends, make your nails the ultimate summer accessory this holiday. 
1. Vegan Nail Gel Polish 
Yes, veganism has come to the nail world, with a new set of vegan gel polish revolutionising nail designs. Our vegan gel polish has non-toxic properties and can be easily removed just the same as regular polish. With the ability to add and remove gel polish just as easily as regular polish, it's convenience is here to stay. 
If you want to try a non-toxic and easy removal nail gel at Nails & Brows, we offer a NEW! Non-Toxic Gel Manicure where nails are cut, filed to shape, cuticles pushed back and gently tidied, followed by a brightening exfoliator and luxe hand cream. Our nail polish lasts up to 10 days, and adds the thick gel strength to the nails whilst being a convenient option to those who wish to have an easy and simple solution for removal.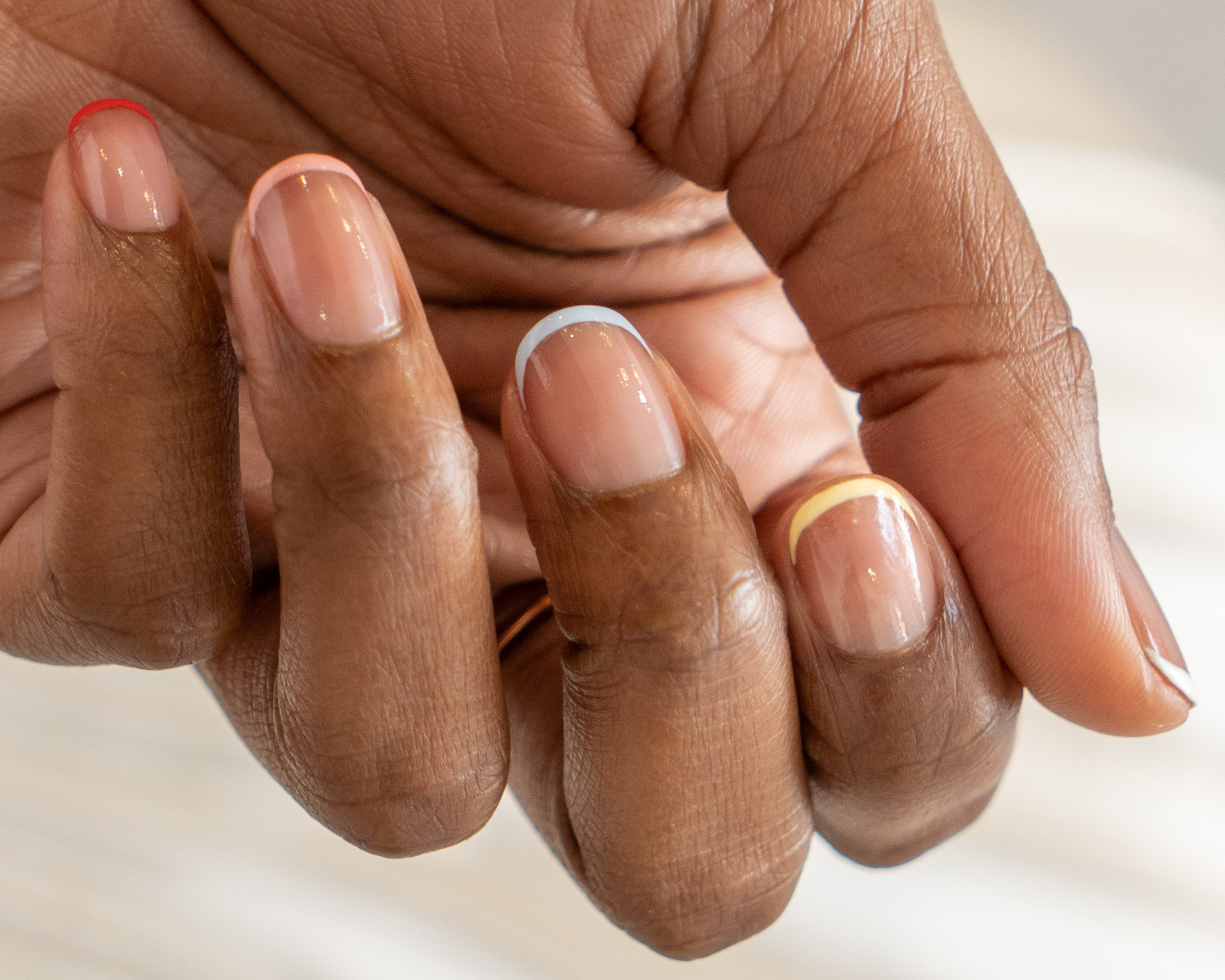 2. Looking for Something Different? Opt for a CBD Manicure
De-stress and reset with a CBD manicure. CBD is known as an important wellness tool to relieve stress, anxiety, joint pain and inflammation it's the ideal remedy to add to your routine.
Pop into Nails and Brows – Mayfair store and nurture your hands back to full health with exceptional products by KLORIS, using the world's finest CBD products. Promoting calmness and relaxation it's the perfect antidote for stress and daily wear and tear, also include a fresh pop of colour for that holiday style. 
3. Minimal Clean Girl Nails
If you've been on tiktok for nail trend inspiration, you'll know a thing or two about the 'Clean girl Aesthetic' trend sweeping the internet. It involves a minimalist tone and nail designs, mainly consisting of a simplistic design, short and well groomed nails. The minimal designs around this trend are very much here to stay and is a summer staple for nail designs 2023. 
Keeping the colour palette to neutrals, like blush, light pinks and whites, this summer style is very clean and perfect alongside a beach holiday tan. Looking for something timeless? Either a classic white or nude French manicure colours, they really never go out of fashion!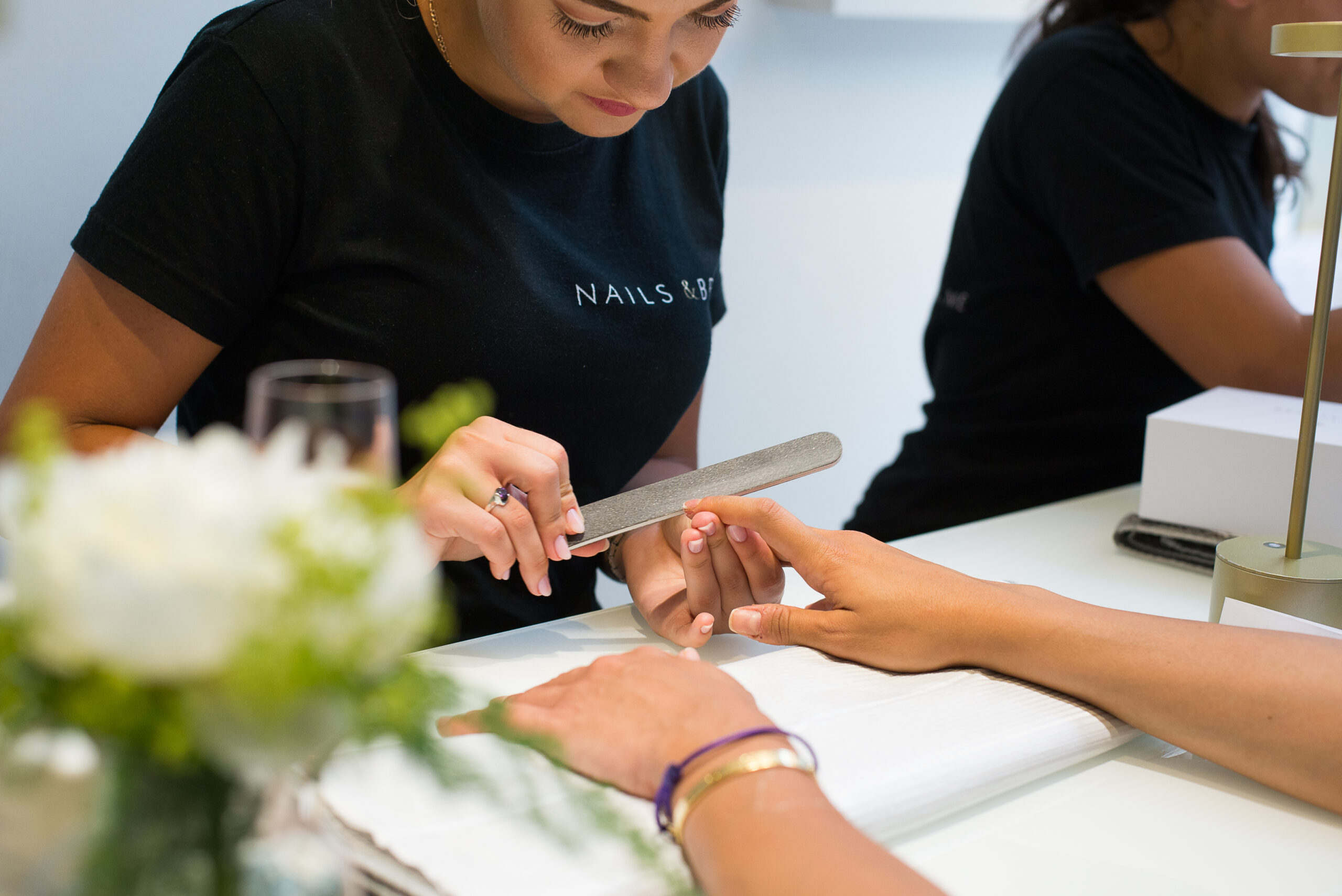 4. All Things Pastel
Looking for something more adventurous? Opt for the colours of the summer, whether that's a pastel fix of lavender or a baby blue, pastels are everywhere this season and a definite colour palette inspiration for any nail art design. Allow the colour to speak for itself with a gel coverage. 
5. Nail Strengthening Manicures
With the harsh winter behind us, if you need a quick nail treatment and your nails look broken, dry, or tired – whether it's from overusing gels or from working too hard – this is the procedure for you. 
After careful cuticle care and flawless shaping, an IBX nail strengthening treatment is done. IBX employs conditioning molecules that solidify and penetrate nail plates, filling up ridges and gaps to create a barrier that stops further nail breakage. Finally followed by a polish to finish your re-glow, and now ready for anything!
Book your nail appointment with us today for a nail re-care and upgrade ahead of this year's trends.