THE 15 BEST EYEBROW KITS FOR AW2021
Your eyebrows are the trademark that defines your look. Whether thin, full, carved, or fluffed, you need the right products to accentuate your them.
Fortunately, these eyebrow kits can equip you with all the essential tools needed to shape and define your brows.
For any beginner, intermediate or expert-level artists, here are the best eyebrow kit options that anyone can use: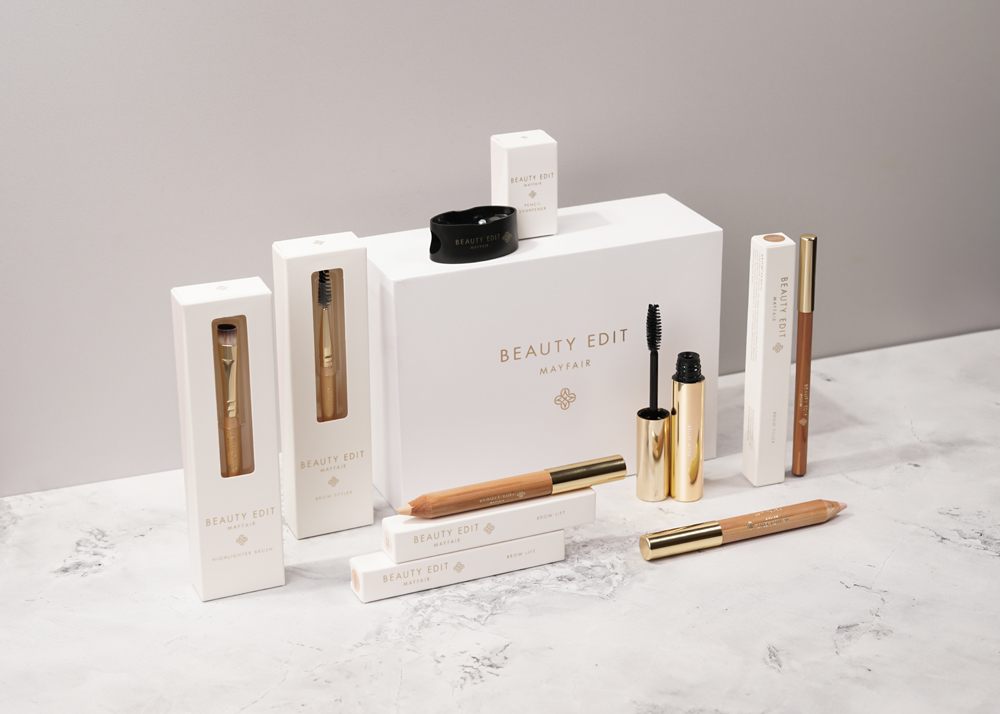 1. Beauty Edit Mayfair Brow Kit
All the eyebrow products and tools you'll need presented in a fabulous limited-edition, blush pink, leather makeup bag. Yes, please!
The Beauty Edit Mayfair Brow Kit comes in various shades for all hair and skin tones and includes:
Brow Styler (Brow Spoolie)
Brow Filler Pencil (Brow Pencil)
Brow Lift Highlighter (Brow Highlighter)
Highlighter brush. (Brow Highlighter Brush)
Brow Setter Brow Gel (Clear Setting Gel)
Dual Ended Sharpener (Makeup Pencil Sharpner)
This eyebrow kit has everything you need to add volume, colour, and definition for flawless brows.
For your all-in-one kit and the irresistible leather case, visit our shop here.
2. Makeup Forever Aqua Brow Kit
On the go and need a quick brow fix? Makeup Forever has you covered. Their sleek small case fits in your purse so that you can take it with you anywhere. The creamy brow products will bolden your brows for an eye-catching look.
Their kit includes:
Waterproof brow gel
1 angled brush
1 spoolie brush
shop here the kit here.
3. Benefit The Great Brow Basics Kit
Benefit Cosmetics has you (or your brows) covered with their incredible bestselling trio of must-need brow tools.
In their eyebrow kit, you'll find:
12-hour lasting waterproof Goof Proof Brow Pencil
Fine-tipped and smudge-proof My Brow Pencil
Gimme Brow+ gel for volume
Carve and fill your brows with these stunning tools.
4. Collection IncrediBROW Eyebrow Kit
Your all-in-one kit is here, and available in brunette and blonde. With 3 shades of powder and an applicator, you can mix your own shade depending on the look you want. This little compact is easy to pack for the road, too.
Kit components:
3 coloured powders
1 angled, double-ended brush
Clear brow gel
Whether you go bold or natural, give this eyebrow kit a try.
5. Urban Decay Brow Box
Go beyond just an eyebrow pencil and mix these powders for a natural shade that suits your brows. Use the aloe, beeswax, and coconut oil-infused perfecting wax to keep the shape you want all day.
Included in the kit:
2 shades of powder
Setting wax
For this multi-tier box (including a secret section for the applicator), start shopping now.
6. Talika High Seduction Eyebrows
For the colour and volume that will last, this is the kit for you. Rather than simply covering your brows, grow them, and tint them instead! The tools in this kit will give you everyday lashes that won't require constant touch-ups.
Tools include:
Paraben-free Eyebrow Lipocils Expert, which includes peptides, silk proteins, and plant ingredients for boosting eyebrow growth
Brow Tintation: For Free-a safe eyebrow dye that maintains colour
For naturally enhanced eyebrows, try this 28-day treatment for results that'll last months.
7. Anastasia Beverly Hills Insta Brows Kit
With 5 shades available, get fuller, standout brows with this Anastasia Beverly Hills eyebrow kit. Cruelty-free, travel-friendly, and limited-edition makes this a high-demand, irresistible product.
In this kit, you'll find:
1 full-sized Brow Definer with duo-sided tips with pigmented wax solution
1 pocket-sized Clear Brow Gel
To style your brows with these high-quality tools, follow this link.
8. Shavata Singh Eyebrow Shaping Kit
This eyebrow shaping kit can help you get the eyebrow arch you've always wanted.
Includes:
Eyebrow stencils
Eyebrow pencil
Get the help of an expert with your eyebrow structure by using these shaping tools.
9. Mylee Brow & Lash Tint Kit
Get the colour you want for your eyebrows with this tint kit. This comes with all the tools you need for long-lasting colour and application. Your brows and lashes will look naturally shaded and fuller than ever.
Inside this kit, you'll find:
Mylee tint shade
Tint activator
Mixing dish
2 tint brushes
For lashes and brows in the shades you want, try this tint kit now.
10. L'Oreal Paris Brow Artist Genius Kit
In just 3 simple steps, you can get volumized, defined brows that will look natural yet elegant. With tools for carving, holding, and styling, you'll get the perfect look.
Inside this eyebrow kit:
Tweezers
Dual-sided applicator with the angled brush end and spoolie brush
2 waxy powder shades
For 12-hour wear and brows that define your look, this is the kit for you.
11. Morphe Arch Obsessions Brow Kit
Are you biscotti, praline, latte, or mocha? These are among the 10 tasty shades that this kit has available for your eyebrow colouring. The tools in this kit will help you look runway-ready at any time.
Your eyebrow shaping and shading tools include
Micro brow pencil
Clear brow gel
Brow cream
Angle liner/spoolie brush
Oh Brow Baby highlighter
To learn the pro tricks for combining these tools to get the perfect brows, visit their website.
12. BBB London X FD Future Dreams Brow Palette
This kit is ideal for thinner brows with trick areas that are tough to fill.
This eyebrow kit has it all:
Eyebrow shaping stencil
Sculpting brush
2 blendable brow powders
Highlighter for under-brow accentuation
This kit is special as half of its proceeds will go toward the cancer charity, Future Dreams. So make a difference and let this kit make you feel beautiful.
13. Clarins my PERFECT Eyebrow Kit
Simple and effective, this kit is equipped with lighter and darker powder to choose whether you want subtlety or drama day-by-day. This little package is great for taking on the road.
A compact with:
2 eyebrow powders in lighter or darker shades
1 highlighter powder
1 mini dual-sided applicator with an angled brush or spoolie end
Get the look with Clarins.
14. Billion Dollar Brows 60 Seconds to Beautiful Brows Kit
Feel like you never have time to tend to your brows? Well, here's the solution for you! All you need is powder and a brush, and you can get the shaped, voluminous, and popping eyebrows you want.
This kit is composed of:
Vegan brow powder that works for all eyebrow colours
Applicator brush with 1 end that is angled for filling and 1 end with entwined bristles for taming
All it takes is 1 minute, so fit this eyebrow kit into your busy schedule.
15. E.L.F Me, My e.l.f. and Eye Kit
Look glamorous on a budget! This all-in-one kit not only includes the tools you need for beautiful brows, but your eyelids and lashes too. There's no need to look any further for defining your gorgeous eyes.
Includes:
Nude eyeshadow palette
Black No Budge retractable eyeliner
Clear eyebrow & lash mascara
With little cost, you can have it all!
Look Fabulous With Everything You Need in One Kit
This list of our best eyebrow kits is an easy to use resource that will make your eyebrows look amazing and professionally done with very little effort. Let these tools boost your confidence to take on whatever comes your way (and look good doing it).